My EUC Session Picks
Admittedly, these picks are a bit biased to Horizon and application delivery, but I've called out some WorkspaceONE sessions for good measure. By clicking on the image of the session, you will be provided with a link to the session in the content catalog.
Solution Keynote – Intelligence Platform
During last year's EUC keynote at Explore SFO, we heard how much intelligence, i.e. the idea of using a "data lake", from all of the endpoints managed in the VMware EUC estate is going to be taking a primary role. It's my assumption here that we're going to be hearing about how these data points can then be analyzed them automated. Think of setting a condition state for a iOS or Windows 10 desktop, then based on your level of comfort having WS1 automating the endpoint management to match that desired state.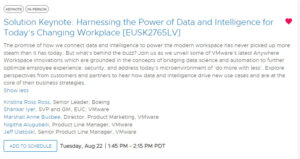 App Volumes 4 – Tech Deep Dive
App Volumes and by extension, Apps on Demand and Published Apps on Demand, continue to be a leading driving force in delivering VMware's vision of a stateless desktop environment that is composable and delivered on demand to the user. We'll hear from the product manager, Jeff Ulatoski, as to where the product is head and perhaps to which additional platforms it will be available.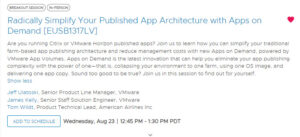 Application Packaging with Rimo3
Initial application rationalization, the process of discovering the applications installed in a golden master, who is responsible for that application, what goes into testing and then packaging it, can be a daunting tasks for organizations. Add in the complexity that these applications need to be tested continuously during patching cycles and the problem gets worse. Rimo3 has developed a unique set of tools to automate this process. As AoD becomes more prevalent, the need to test and automate against a wider set of potential desktop environments becomes all that more important.

Horizon Cloud on Azure – Next Gen Deep Dive
With the recent announcement of the Horizon Cloud version 1 platform deprecation timeline, it's critical for Horizon admins to understand the future of the platform and how it's a significant architectural change from what was offered prior. This session will cover up to date migration information along with deployment considerations as we move more functionality into the Horizon Cloud.

Horizon Cloud Platform + AVD & Win365
The Horizon Cloud platform, is evolving to allow admins to deploy desktops to a multitude of different platforms, including the three core Hyperscalers, in several different offerings, based on the business requirements of how much or how little those admins wish to manage the actual desktop delivery stack. For Microsoft, we'll hear from their director of product for AVD and Windows365, Scott Manchester, as to how the are partnering with VMware and the Horizon Cloud platform to offer a "better together" pairing that's perhaps better than the native SKU
Virtual Desktop Cloud Cost Analysis
I've been lucky enough to work with Han on a few of our global accounts. His catchphrase of "If your moving your on-premises VDI images directly to the cloud, your doing it wrong.", has really resonated with me. As we're moving more workloads to native Hyperscaler offerings, it's important to understand the nuances of each platform's cost structuring along with how subtle changes in CPU, Memory and disk storage can have a dramatic impact to your overall cloud spend at scale.

EUC Community Roundtable
Sean Massey will be leading a discussion of industry veterans including Jens Henning, Jon Towles, Dane Young and Stephen Wagner regarding where EUC from both the VDI and MDM spaces is headed. I always appreciate the insights of these individuals who are at the forefront of our global partner practices.

Practical applications of AI in Intelligence Platform
A practical take on the keynote. How information in the intelligence platform can be used to drive automation and alerting from one of the best in the field, Johan van Amersfoort.

Shameless Self Promotion – My own Horizon Cloud On Azure Session